parallel twin screw barrel for pelletizer granulator extruder PVC pipe profile board WPC recycle compound foam board manufacture
| | |
| --- | --- |
| Preço unitário: | 1000 USD |
| Quantidade de pedido mínimo: | 1 Set/Sets |

| | |
| --- | --- |
| Pacote: | Disinfected wooden cases with plastic film |
Descrição do produto
Hello friends~
We manufacture and offer the best quality of screws and barrels for Extrusion machines over 30 years.
We provide professional CAD drawing design and dimensional mapping. Provide you with as much service as possible.
Our bimetallic screws and barrels could let you use more time for processing.
We can offer with these models and others models, please just contact with us for confirming the details :)
***Materials for screw & cylinder
1) 38CrMoALA (JIS SACM645)
2) 42CrMo (JIS SCM440)
3) 4Cr5MoSiV1, SKD61, SKD11
4) 9Cr18MoV 
5) CW6Mo5Cr4V2
6) GH113, GH132
7) Various high quality alloy steels, According to different usage, the choose for alloy is different, some require for abrasion-resistant while some require for corrsion-resistant. For standard, we have Fe-based, Ni-based, W2C alloy, Tunsten alloy etc for choice.
8) Other imported materials.
***Applications:
PE, PP, ABS, rubber, various high glass fiber, mineral fiber and PPA,PPS, PA6T, LCP,VO fire protection, ferrous power, magnetic powder, etc.
For recylced plastic material, PVC + 30% CaCo3, etc
***Technical Parameter for injection machine part single screw &cylinder
| | |
| --- | --- |
| Screw Diameter | Φ45~Φ250 |
| Screw Alignment | 0.015mm |
| Nitride Brittleness | ≤Grade 1 |
| Depth of Nitride Layer | 0.5~0.8mm |
| Hardness of Nitride | HV900~1020 |
| Quenching and Tempering Hardness  |  HB240-280  |
| Surface Roughness |  0.045mm  |

***Production Process:
Blanking→Rough Machining→Quenching & Tempering →Semi Finishing Machining→Finished Product→Detecting→Nitring/Alloy Processed →Finish Machining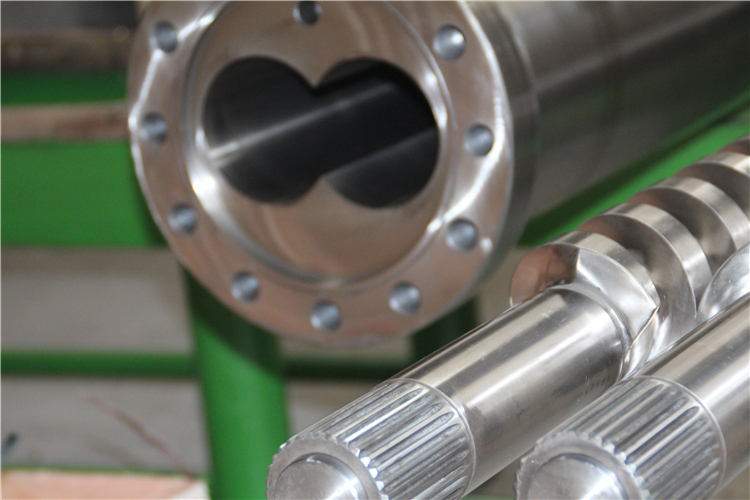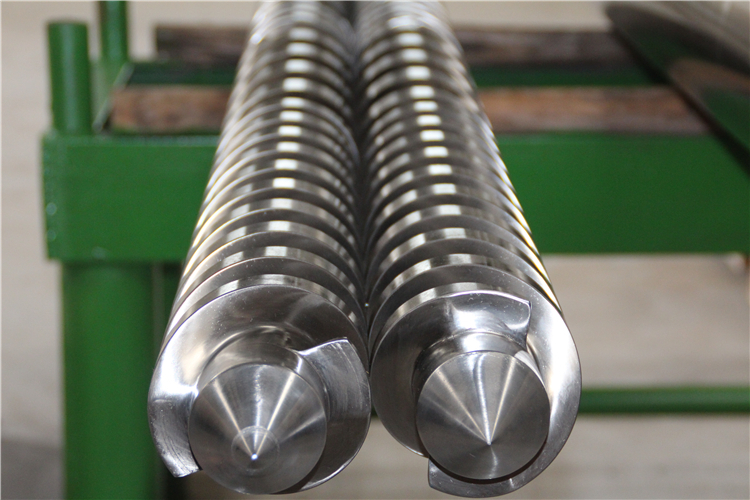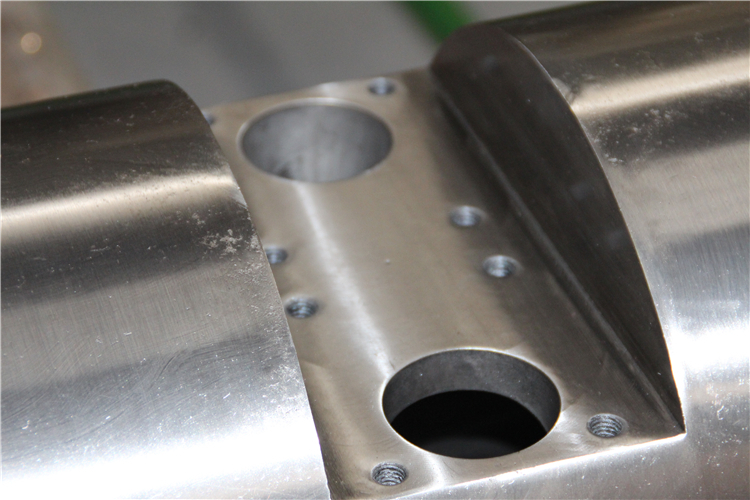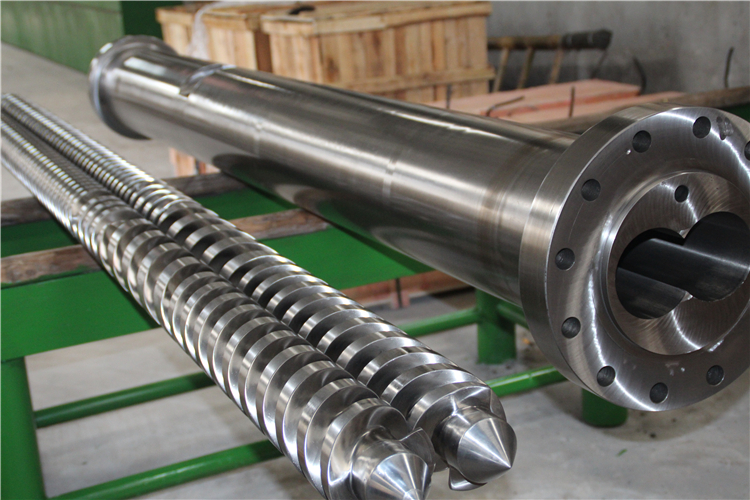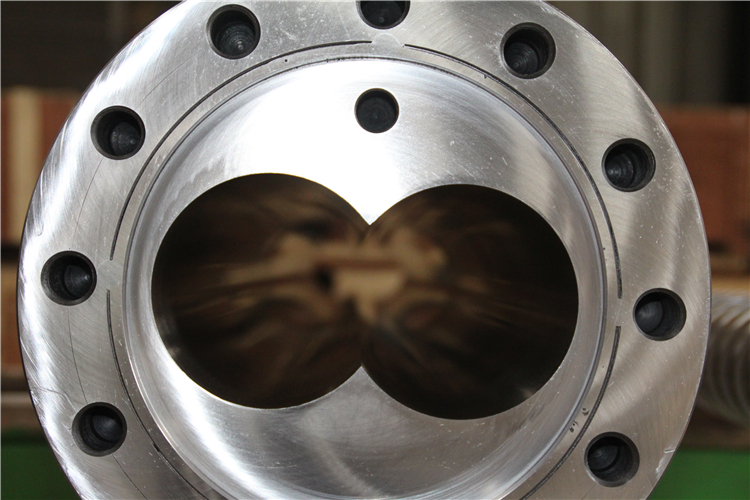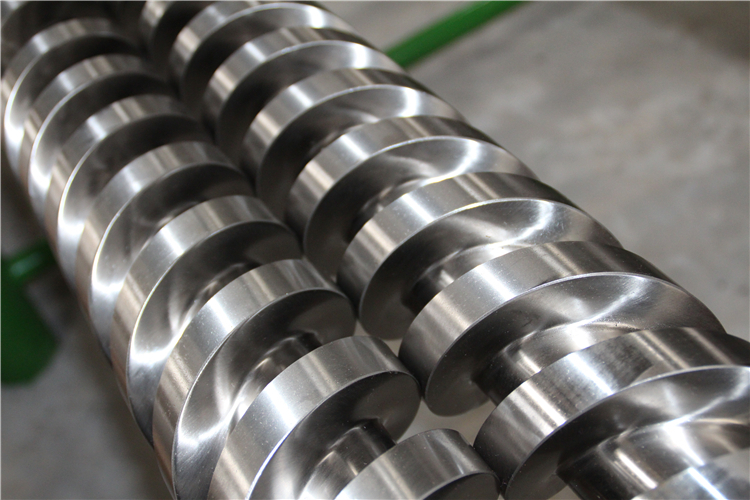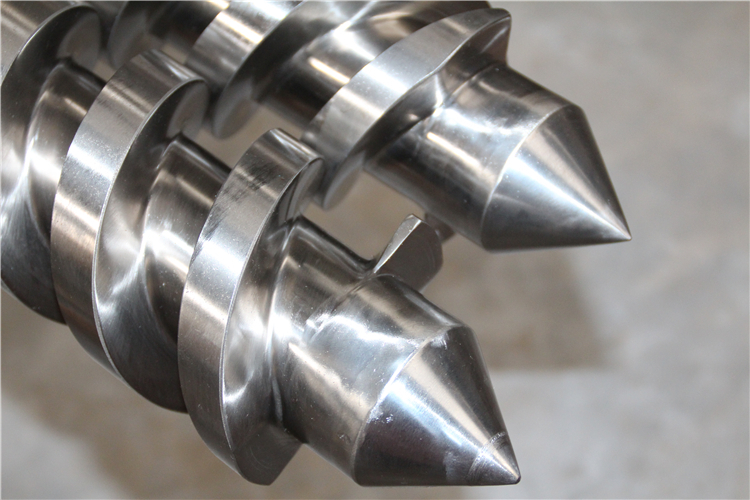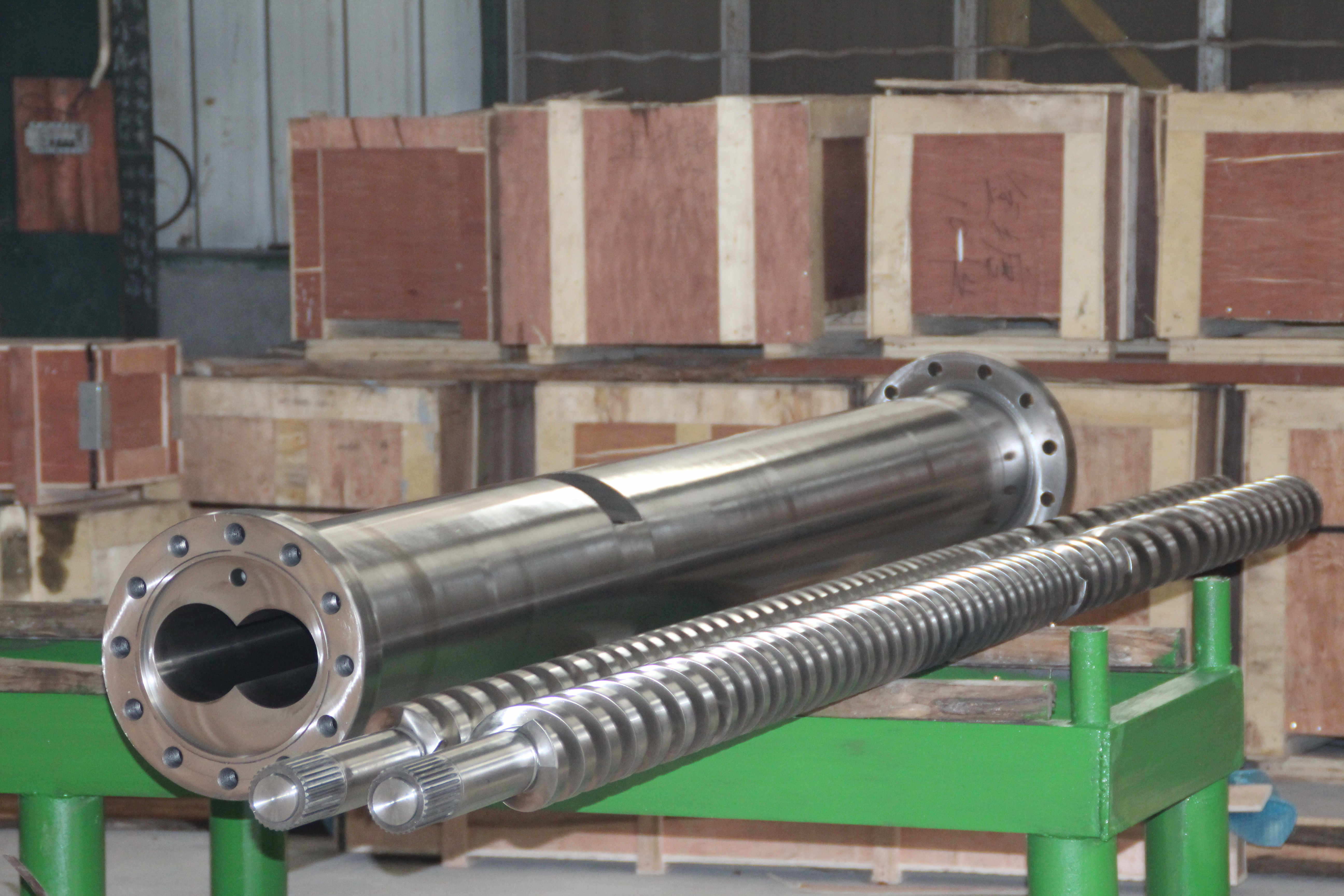 Followings are normal machine models we supply. Some of them are in stock:
· Cincinatti: Argos93-28, Argos114-28, Argos135-28
· Krauss Maffel: KMD75-26, KMD75-36, KMD90-23, KMD90-32, KMD90-36, KMD110-26, KMD114-26, KMD114-32, KMD114-36, KMD130-23, KMD133-23
· Battenfeld: BEX65-18, BEX65-22, BEX68-28, BEX90-22, BEX90-25, BEX92-28, BEX107-22, BEX107-25, BEX110-25, BEX130-22, BEX135-28
· Weber: DS65-17, DS85-17, DS85-19, DS87-22, DS88-17, DS88-19, DS88-25, DS106-21
· Theysohn: PAR88-23, TTS88-23
· Amut: BA67-22, BA86-24, BA92-22
· KABRA: KABRA52-25, KABRA65-22, KABRA68-28, KABRA90-25, KABRA92-28
· BANDREA, BAUSANO, WINDSOR and so on.
APPLICATION
· PVC Pipes
· PVC Profiles (Door & Window)
· WPC (PVC, PE)
· PVC Foam Board
· PVC Compounds
Wooden case for exportation.
Protect the products in good condition.
Our company, ZHOUSHAN OSD MACHINERY COMPANY, provides professional CAD drawing design and dimensional mapping. Provide you with as much service as possible.
We can make any specification of extruder screw barrel and injection screw barrel for

Engel, Krauss-maffei, Milacron, Demag, Arburg, Haitian, JSW, Toshiba, Nissei, Sumitomo, Nippon Steel, Mitsubishi, Fanuc, Chenhsong, Haitai, Yizumi, Cincinnati, Battenfeld, Weber, Theysohn, Bausano, Maris, Jwell, Jinhu, Liansu, Windsor

, etc.

We also can supply all types of screw and barrel according to your different requirements.

Our screw barrel can ensure the well performance and low energy consumption of extruder and Injection molding machine. We insist on the principle of quality first, honest to customers, the quickest service for customers" to improving us, our goal is to satisfy our customers.
About our company:
Our Strength: We have an experience of more than 30 year of manufacturing and designing Plastic machines, varied Screws and Barrels and spares.  We concentrate on improving quality, updating design and enhancing service.
Our products: Screws Barrels for Injection, Extrusion, and Blow Molding applications; relevant accessories; plastic processing  machinery.
Location advantage: located in China's Screw Town - Jintang Town in Zhoushan City, close to Ningbo Port and Shanghai Port.
Market areas: global sales network reaching Europe, Southeast Asia, Africa, Oceania and South America.
We promise: We assure the customer benefits, We provide competitive price, We emphasis on Cooperation.
A:Where is our factory?
ADD: NO.22 XINGONG ROAD, LIGANG, JINTANG TOWN,DINGHAI DISTRICT, ZHOUSHAN CITY, ZHEJIANG PROVINCE, CHINA
B:Why choose us?
(1) We have complete system of designing and production.
(2) We can provide the perfect management solutions and processing equipment.
(3) We have high request of clearance and make every detail perfect.
(4) We could make you in a leading position in the industry.
(5) You could contact us anytime and we would reply you as soon as possible.
C: What's the payment method?
L/C, T/T, Western union
D: Can you see the running machine in our factory?
Yes. Before making your decision, you can check our precision with our stock.
E: How long of the warranty time?
Usually our warranty period is 1 year.
| | |
| --- | --- |
| Company name: | ZHOUSHAN OSD MACHINERY CO.,LTD. |
| Address: | ADD: NO.22 XINGONG ROAD, LIGANG, JINTANG TOWN,DINGHAI DISTRICT, ZHOUSHAN CITY, ZHEJIANG PROVINCE, CHINA |
| Post code: | 316031 |
| Contact: | Ms Jessie Chan |
| Telephone: | +0580-8053003 |
| Fax: | +0580-8052186 |
| Whatsapp: | +86-198 2280 7019 |
| Wechat: | osdscrews |
| Skype: | sales3(at)oushengda.com |
| Website: | www.oushengda.com |
| mail address: | sales3(at)oushengda.com |
Zhoushan OSD Machinery Co., Ltd.
Zhoushan Oushengda Plastic Machinery Co., Ltd. é fundada em 1990 (o nome original é ZhouShan HuaYuan Plastic Machinery Co., ltd.) Nós somos um fabricante e exportador profissional preocupado com o design, desenvolvimento e produção de máquinas de plástico, parafusos e barris . Nossa fábrica principal está localizada na cidade de Screw Town da China - cidade de Jintang na cidade de Zhoushan, perto do porto de Ningbo e do porto de Xangai.

Todos os nossos produtos estão em conformidade com os padrões internacionais de qualidade e são muito apreciados em uma variedade de mercados ao redor do mundo. Cobrindo uma área de mais de 2.000 metros quadrados, agora temos mais de 80 funcionários e um número de vendas anual que ultrapassa US $ 50 milhões. Atualmente, estamos exportando 60% dos nossos produtos em todo o mundo. Instalações bem equipadas e excelente controle de qualidade em todas as etapas de produção permitem-nos garantir a satisfação total do cliente. Além disso, recebemos a certificação ISO9001. Como resultado de nossos produtos de alta qualidade e excelente atendimento ao cliente, ganhamos uma rede global de vendas que chega à América do Sul, Europa Oriental, Sudeste Asiático, África, Oceania e Oriente Médio.

Se você estiver interessado em algum de nossos produtos ou tiver alguma dúvida, não hesite em nos contatar. Estamos ansiosos para estabelecer relacionamentos comerciais de sucesso com novos clientes em todo o mundo em um futuro próximo.
Nome da empresa: Zhoushan OSD Machinery Co., Ltd.
representante: Mr Wang
Produto / Serviço: Caixa de engrenagens para extrusora de parafuso simples ou duplo , Parafuso e Barril Bimetálico , Parafuso e barril de extrusão , Parafuso e cilindro de injeção , Parafuso e Barril gêmeos cônicos , Caixa de engrenagens extrusora de rosca dupla
capital: 2,000,000RMB
Ano de Fundação: 2011
Volume anual de vendas (milhões EUA $): US$2.5 Million - US$5 Million
Porcentagem de exportação: 31% - 40%
Volume de Compra Anual Total (EUA $ Milhões): Below US$1 Million
N º de Linhas de Produção: 3
Número de Funcionários de I&D: 11 -20 People
Número de Funcionários QC: 11 -20 People
Serviços OEM Desde: yes
Tamanho da Fábrica (metros Quadrados): 1,000-3,000 square meters
Localização da Fábrica: LiGang Industrial Zone,Jintang Town,Dinghai District,ZhouShan City,ZheJiang Province,China, Zhoushan, Zhejiang, China
Pessoa De Contato: Ms. Sally Jiang
Número De Telefone: 86-580-8053003
Enviar e-mail para este fornecedor